Celebrities
Jorgito Guayaco: This is his story before reaching adult cinema
Jorgito has starred in his first film 'nopor' and with this he has managed to get everyone to talk about him on the networks. How much do you know about him? 
Social networks frequently serve as a launchpad for unknown individuals who want to become famous and wealthy. However, little is known about the past lives of these so-called 'influencers'; some choose to forget it, while others choose not to share it out of embarrassment. How well-versed are you in Jorgito 'Guayaco? EXTRA has chosen to look back on his life.
This character  has been a trend, this February 15, for his foray into adult cinema , where he had a debut on February 14 as "Cupid" along with a Colombian triple X actress.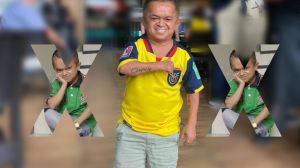 Biography
On November 19, 1992, Jorge Washington Naranjo Peafiel was born in the Guayaquil suburb, one of the city's most unsafe areas.He sold brooms and demanded money for taking pictures in order to "kill the lioness," as many onlookers were intrigued by him and asked him for a picture to share on social media.
The same influencer claims that his father made him beg on the streets to "stop the pot" in his home, and that it was during these ups and downs that he became involved in the drug trade.
But after all these hardships, fame would come to him after answering a question with the word "Chúpalo", which is now his brand and insignia, in an interview with YouTuber Felipe Crespo. 
READ ALSO: Sadie Mckenna Onlyfans Videos & Photos Leaked
Precisely said interview and other viral ones reached the South American soccer players James Rodríguez and Marcelo, who sent him greetings on their networks.
Accused of stealing on a bus
He was charged with stealing traveler's belongings in 2018 on the Guayaquil-Machala highway. This person was discovered in a bag, from which it appears he steals other people who were also detained on the bus in the same location.
The prosecutor on duty was informed of the situation, according to the police report, and he or she determined that since there was no complaint, the arrest was not necessary.
Videos of him in a drunken state, without clothes, and as a beggar were circulated before this episode.And all of this, according to the producer of the content, happened because he resided with his father, who allegedly encouraged him to engage in illicit activity.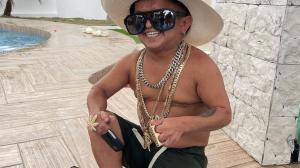 Breakthrough
Away from his home and temptations , the influencer went to live with his manager and began to stand out on social networks, with new and constant content, although not many like it. 
Jorgito raised his head and has appeared in constant videos, "billing" for his content on social networks, in which he appears surrounded by models, soccer players, singers and more. The last appearance of his most 'pepa' of him was in the Ecuador vs. Argentina, in which he came out dressed as an Arab.
Now betting on adult film production , a niche in which it has had apparent acceptance.