Celebrities
Raleigh shooting: Details about 15-year-old Austin Thompson
At least five people were killed and three more were hurt in a mass shooting in Raleigh, including the alleged adolescent gunman.
Austin Thompson, 15, was recognized as the shooter on October 13 in a statement from his parents; however, due to his young age, police have not yet released his name.
On the night of the assault, he was apprehended and taken to the hospital with "life-threatening" wounds following a four-hour manhunt in the state's capital.
Nicole Connors, 52; Susan Karnatz, 49; Mary Marshall, 35; Gabriel Torres, 29; and James Thompson, 16—the brother of the alleged shooter—were the names of the five people who perished.
READ MORE: Killeen Babysitter Kills Toddler Left Unsupervised
Among the three wounded were Marcel Gardner, 59, Raleigh police officer Casey Clark, 33, and the suspect.
Around 5 o'clock in the evening, Austin Thompson allegedly started shooting on a residential street, murdering two persons before moving on to a nearby trail.
The district attorney said their desire to charge the suspect as an adult, although no motive for the incident has been established.
Here is everything we know about the shooting so far:
When did the shooting start?
At a press conference held on Thursday at around 5 o'clock, hours after the violent incident started, Raleigh Mayor Mary-Ann Baldwin confirmed the fatalities.
Residents of the Hedingham area called 911 to report gunfire and an armed man in camouflage on Osprey Cove Drive, which is where the shooting started.
"I have one down. One man less. Hispanic. It's not good. One caller informed the dispatchers, perhaps referring to victim Gabriel Torres, "He's an off-duty officer."
Nicole Connors, who was shot while standing next to her dog on her front porch, was the other person killed on the street.
On Sahalee Way, two more victims were discovered hurt as police started to cordon off the area. James Thompson, who later passed away, was one of them.
The search for the gunman soon spread to the Neuse River Greenway, where two more women were found dead. They were Susan Karnatz, who had been out for a run, and Mary Marshall, who was walking her dog.
When was Austin Thompson arrested?
After evading arrest for several hours, officers confirmed that they had successfully apprehended the suspect believed to be responsible for the mass shooting at 9.37pm.
In addition to the Raleigh police force, multiple other agencies were tapped to assist in the manhunt for the suspect.
Witnesses who saw the violent episode unfold confirmed to WRAL that they'd seen the young man roaming through a backyard in the neighborhood dressed in camouflage.
"I essentially saw him drive by my house in the backyard. He held a shotgun with a long barrel. He wore camouflage clothing. He was wearing a big rucksack that was also camouflage, a witness in Raleigh told the neighborhood news organization.
On Thursday, police gave little specifics about how the arrest happened and simply offered updates via Twitter, where they first advised locals in the concerned neighborhoods of McConnell Oliver Drive, Tarheel Club Drive, and Old Milburnie Road to stay inside.
After roughly an hour, it was announced that the case was still under "active investigation" but that the "suspect is now in custody".
ABC 11 reported that authorities had reportedly cornered the suspect in a barn off Buffaloe Road, located about a 12-minute drive away from the scene of the shooting.
Who is the suspected shooter?
In a statement on October 18, Austin Thompson's parents named him as the shooter.
Words, according to Alan and Elise Thompson's parents, "cannot even begin to express our agony and sorrow." "Our son Austin caused the Raleigh community immense suffering, and the loss of innocent lives has left us speechless. We offer prayers for Nicole Conners, Susan Karnatz, Mary Marshall, and Raleigh Police Officer Gabriel Torres' families and loved ones.
They said, "We grieve for their loss as well as the loss of our son, James. We pray that Marcille 'Lynn' Gardner and Raleigh Police Officer Casey Clark fully recover from their wounds, and we pray for everyone who was devastated by these senseless acts of violence.
"So many of our questions remain unanswered. Austin was never shown to be capable of doing anything similar, and there were never any red flags.
"Our family will continue to work in complete cooperation with law enforcement authorities and will take any necessary steps to assist them in understanding why and how this occurred."
Due to his young age, police have not released the suspect's identity to the public; however, when he is charged as an adult, they will formally release it.
Before the shooting, witnesses who spotted the alleged shooter told WRAL that the child appeared to be no older than 16 years old.
"He had to be between 13 and 16 max – he was a child," said a woman who was in the Raleigh neighborhood just moments before the shooting began and believes she saw the suspected shooter.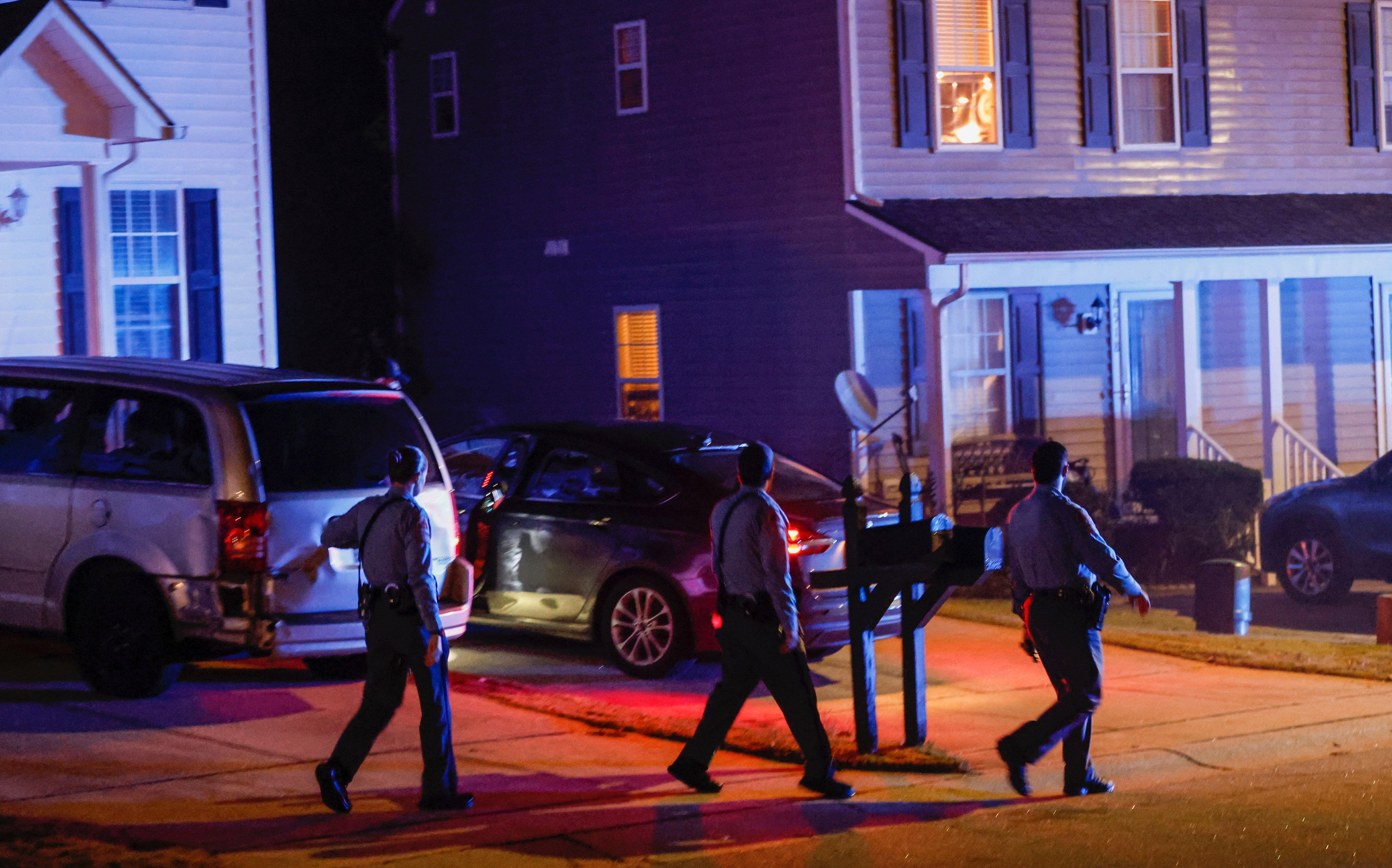 Other witnesses stated that they thought the young man had been in possession of a weapon that appeared to be a long-barreled shotgun.
One man told the neighborhood news source, "I heard two gunshots." "They made a lot of noise, so I knew there was something nearby. Three more gunshots were then heard. I essentially witnessed him walk by my house in the rear. He was disguised, carrying a long-barreled shotgun, and wearing a large backpack that was likewise camouflaged.
The suspect was hospitalized to treat life-threatening wounds, which the authorities would not specify if they were self-inflicted, but they did confirm that he was in custody.
According to WRAL, the suspect received treatment at WakeMed in Raleigh.
Do they have a record or known motive?
There is no reported motive in the mass shooting nor any details about any previous criminal records the suspect might've had.
SOURCE: www.independent.co.uk