Celebrities
Who is Mohbad Wife: Meet Omowunmi Aloba, Kids, Biography
Omowunmi Aloba, widow of late musician Ilerioluwa Aloba aka MohBad, lamented the tragic death of her husband and father to their five-month-old son, Liam, in a series of Instagram photos.
Omowunmi, a linguist, as her Instagram account describes her, published a series of images depicting their days together until his untimely death on Tuesday. The 24-year-old stated in one of the images uploaded on Wednesday, "Laim is only five months today, where do I start from?"
In another post, Omowunmi wrote, "Somebody should help me I can't do this alone.
"We had so many plans, two responsibilities have now become one. You were my ride or die, I tried my best to make you stay, Ilerioluwa. I don't wish this type of pain on anyone."
With the release of his number-one single "Feel Good" in 2019, Nigerian musician and songwriter Mohbad shot to prominence. He is renowned for fusing Afrobeats with trap music in a distinctive way. In addition to his professional accomplishments, Mohbad is well known for his publicized personal life.
Omowumi Marriage to Mohbad
Mohbad's marriage to Omowumi is one of the most discussed elements of his life. The pair has a son together and has been together for a long time. However, things haven't always gone smoothly in their partnership. Mohbad was detained for narcotics possession in 2021, while Omowumi reportedly underwent hospitalization following a failed suicide attempt.
Mohbad and Omowumi have managed to stay together in spite of their difficulties.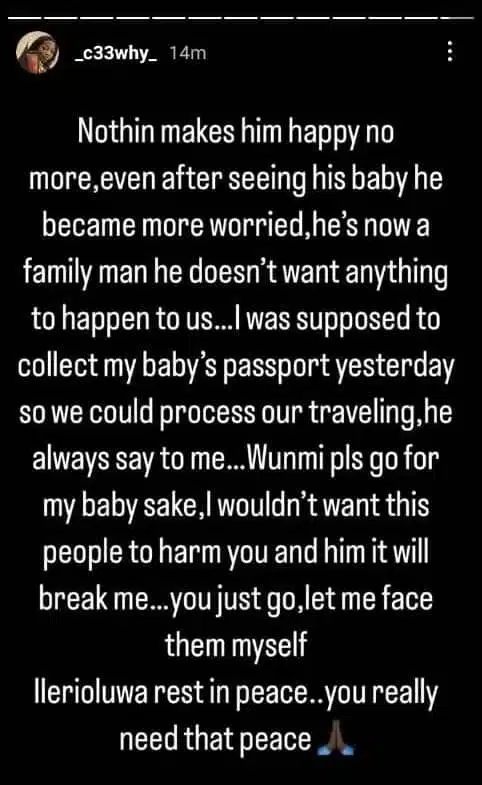 Mohbad and Omowunmi's Relationship
The connection between Mohbad and Omowunmi has received a lot of media attention. Mohbad's drug addiction and mental health difficulties have been openly discussed by the pair.
Mohbad and Omowumi have managed to stay together in spite of their difficulties. Many people who are striving to overcome their own obstacles look to them for encouragement.
What Killed Mohbad?
In a heartbreaking revelation, the late Nigerian singer MohBad's wife revealed the cause of his passing.
She disclosed that MohBad had been battling those who wanted to end his life while also dealing with unhappiness and worries.
Even after the birth of their child, he lost his joy and worried more and more. He persuaded his wife to go for the sake of their child since he valued his family and was continuously concerned for their safety.